In late 2016, Olympus launched the mZD ED 12-100mm IS PRO. I bought it immediately and used it on several trips, taken many satisfying street-photography shots, and recorded many occasions at work.
The selling point is the 6.5 steps image stabilization achieved with E-M1 II. The combination is mainly focused on travel and everyday use. I only brought E-M1 II and 12-100mm with me on that trip to Okinawa in 2017, and I never had to change lenses.
Later travel to Taiwan. Again with just the combination without other lenses. Indoor used is no problem. Handheld is easy with the excellent image stabilization system.
Since Olympus launched the PRO series lenses, many people feel that the size is getting bigger and bigger, even among M4/3 users. Even someone complained the E-M5 is too big when it is launched. However, the E-M5 is just the size of the popular E-P1/2/3 plus an EVF.
Of course, consumers have their own needs. Tastes change over time, and the design of the equipment will have different orientations as the market develops.

The official website of the 4/3 Alliance describes the M4/3 system in the following way.
Let's see how the official description of the 4/3 system back then. (The website has been modified. The below contents are not available anymore. You can check the wayback with the following url: https://web.archive.org/web/20161122135338/http://www.four-thirds.org/en/fourthirds/index.html.)
We can understand the thought with the official statements. 4/3 alliance does not just provide tiny products. They also aim to develop products with higher performance than conventional lenses (35mm system is the comparison), at the same time to keep small and light enough to carry. The 12-100mm is such a product. It looks like the same size as the traditional 24-70mm f/4.0 and 70-200mm f/4.0. However, 12-100PRO is two lenses in one! It also offers image stabilization, reliable weather sealing, and excellent image quality.
Imagine that you to a photography trip with your friends. You found a beautiful scene. Now your friends took out their wide-angle lens to shoot and then replaced it with a telephoto lens. Some of them using two bodies to shoot around. And you, just pick up the E-M1II and 12-100PRO. A wide-angle shot, a telephoto shot, and there is time to take some more scenes, and then back to the car to relax, watching your friends change the lens… You are so cool!
Street photography is even more convenient with 12-100PRO. I love the compression of telephoto shots. However, each time taking out the gears, I don't want to miss the wide-angle too. 12-100mm is just right.
We are always good to have choices. In the M4/3 system, I can find 12-32mm, 15mm, and 20mm lenses that are small enough to form a portable system with bodies like the E-PL or PEN-F (the street photography in this article was shot with 15mm and 20mm), as well as 12-100mm and even 14-35mm, the high-performance options.
The 12-100mm may not be as easy to use as small equipment for casual photography, but it is reliable for recording important images.
For work use, the 12-100mm is even more competent. You don't have to worry about not being able to shoot with the equipment. You just have to pay attention to whether you can capture it.
Typhoon Hato in 2017 has caused serious damage to Macau. The civil protection system held a drill codenamed "Crystal Fish" in the following year to review the preparedness ahead of typhoon season.
Even back in the 4/3 era, the 14-35mm and 35-100mm were about the same size as their 35mm system competitors but gave you a large f/2.0 aperture to make sure you could shoot with a faster shutter (the f/2.0 of the 4/3 is a true f/2.0. Please read this article.) The 7-14mm was the widest angle lens (35mm format equivalent 14mm angle of view) in the year it was introduced (2004) when the widest 35mm system was only 16mm. The 12-100mm is a product to let me remember the core value of M4/3. Later I purchased again the 14-35mm because I don't worry about size anymore.
The convenience, reliability, and high performance of the 12-100mm really make me love it… M4/3 in recent years develop products not only keeping size but focus on the specifications, performance, like Panasonic's DG 10-25mm f/1.7 and 12-100mm. When you can keep your core values, you win applause.
Maybe some people think that the same effect can be done with a 35mm camera cropped. I do not intend to discuss, after all, everyone has their own way to shot. If you are M4/3 user and questioning the size of the PRO series… I can only say:
Buy more and you will have enough faith. LOL
The last words
Now M4/3 system may be weak in the market. I have been using the predecessor 4/3 system since many years ago. We must admit that M4/3 is indeed closer to the core value.
Such a unique style and practical product is a different choice from the market. It would be a loss to the world if it eventually disappears.
您的訪問次數將成為筆者的寫作動力,感謝您的閱讀。
Your visit encourage my writing. Thank you for your reading.

Art of Spectrum: Introduction to Light Pollution Filters
We always heard about light pollution filters for starry sky photographing. People who live in urban areas always suffer from light pollution when they look at the night sky. However, there are various kinds of filters in the market. Are they effective in filtering light pollution? How should we choose when most brands launch several different models of filters?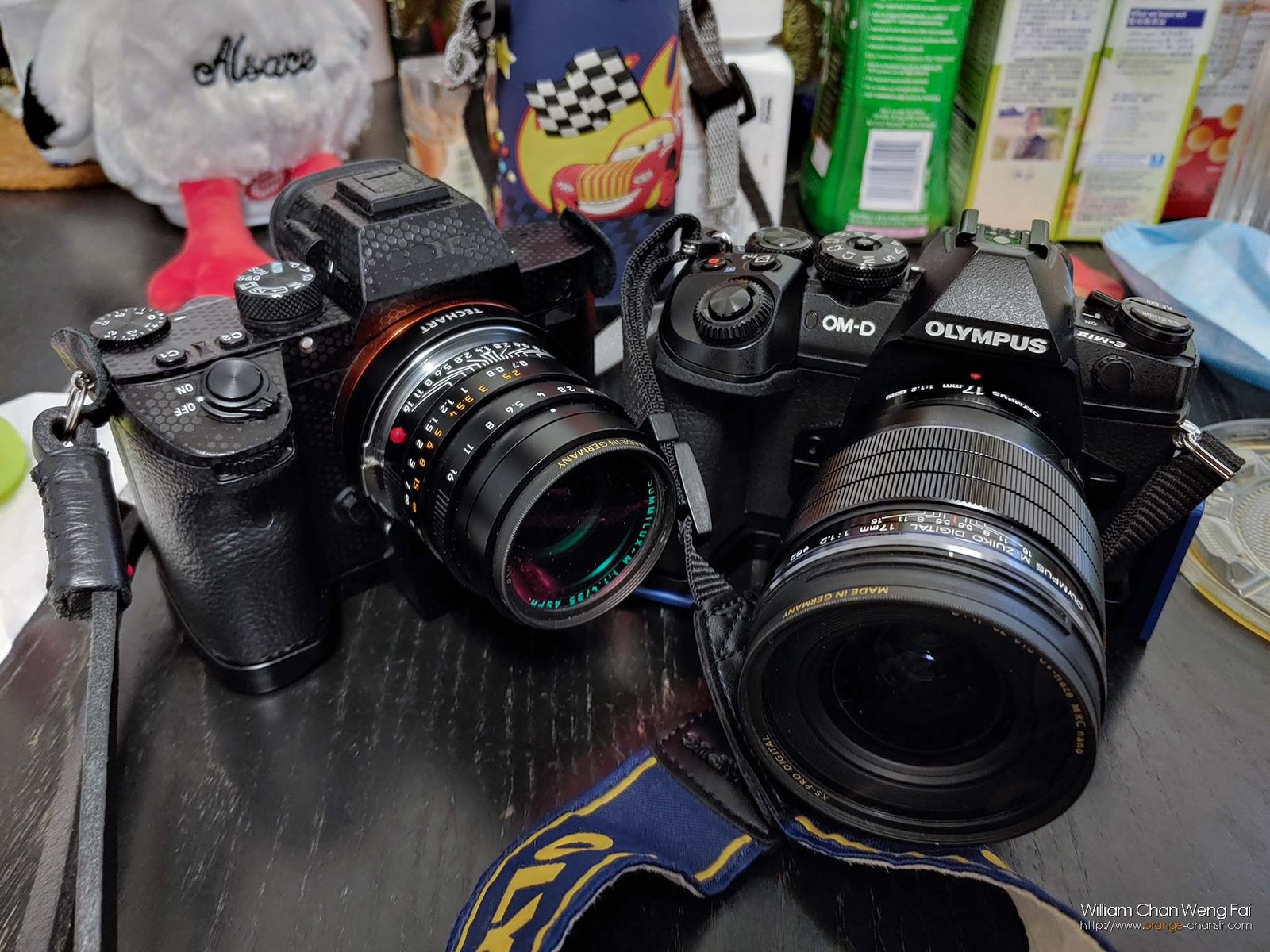 Equivalent: Prespective
M4/3 was introduced in 2008 by Panasonic and Olympus. It attracted some users who shoot basically with the 35mm system, and they finally switched to the new system or used it as a spare system. However, some new users thought that the M4/3 lens with matching equivalent focal length does not share the same perspective. For example, when someone uses a 17mm lens on the M4/3, he feels that the angle of view is quite different from the 35mm lens of the 35mm system. They thought, "because that's the perspective of a 17mm lens.